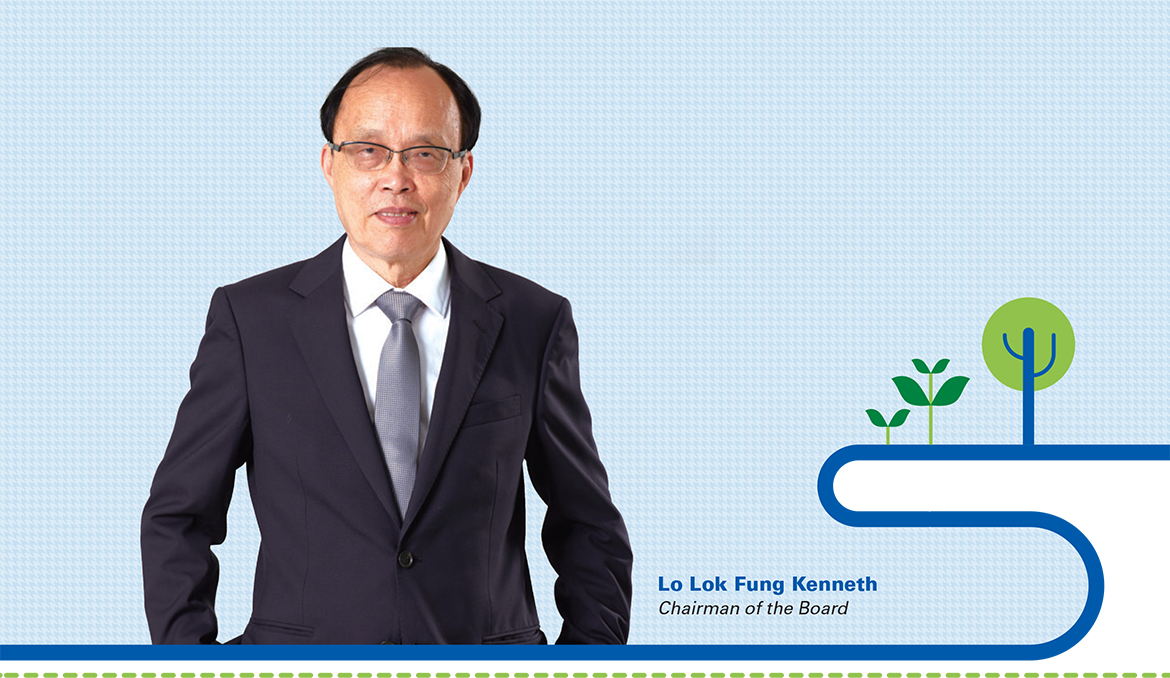 On behalf of the board of directors (the "Board") of Crystal International, I am pleased to present the annual results of the Group for the year ended 31 December 2017.
The shares of the Company were listed on the Main Board of The Stock Exchange of Hong Kong Limited (the "Stock Exchange") on 3 November 2017 (the "Listing Date"). The Initial Public Offering ("IPO") is an important milestone in the development of the Group, which has had the combined impact of enabling the Group to strengthen its corporate values, become better known publicly, and gain access to the international capital markets. With strong support from various stakeholders, especially our long-standing customers, strategic partners and suppliers, the process of our IPO went very smoothly. In particular, I am deeply grateful for the support of our major customers, Fast Retailing Co., Ltd. and L Brands, Inc., who have become cornerstone investors. In addition to my gratitude to our management team for their dedicated effort and to various professional parties for their guidance and input during the IPO process, I would like to take this opportunity to express my sincere appreciation of our shareholders who have given a strong vote of confidence in Crystal International and its future.
"For the Greater Good" Corporate Culture
"For the Greater Good" is the bedrock of our corporate culture. Crystal International has a mission to "Change Ourselves, Change Our Company, Change The World". We have developed a cohesive, ambitious and best-in-industry team that is supportive and energetic. The team shares a common goal of "Becoming The World's No.1 Apparel Maker". In 2017, seizing opportunities determinedly, we progressed towards the long term objective, successfully achieving the Group's development targets that we had set at the beginning of the year.
Moving into Sportswear and Outdoor Apparel to Fuel a New Growth Engine
While we will comment on our business development in the "Management Discussion and Analysis" section, I would like here to highlight the major elements of the Group's progress in 2017. Following the Group's successful acquisition of Vista Corp Holdings Limited and its subsidiaries ("Vista") at the end of 2016, we have moved successfully into the business of sportswear and outdoor apparel manufacturing. We see sportswear being highly complementary to our overall product portfolio. Expanding our activity in the sportswear business is expected to become a strong driver for our future growth. We are committed to leveraging our expertise in apparel manufacturing to deliver breakthrough innovations in sportswear products at the same time as we develop cross-product innovations.
"Change Driver" role with Focus on Total Innovation
The apparel manufacturing industry is at the stage of consolidation. By leveraging our competitive advantages, Crystal International should be in a good position to take advantage of opportunities arising from industry consolidation to achieve continuing growth and innovation. Enterprises have no choice but to undergo continuous transformation if they are to stay competitive in an environment of "survival of the fittest". As the Chairman, I have assumed the role of "Change Driver" for the long-term strategic development of the Group. In 2016, despite being the world's largest garment producer in terms of production volume, our market share was only 0.4% globally. I believe there is ample opportunity for the Group's sustainable development when global demand for apparel manufacturing is growing by a few percentage points every year.
Looking for opportunities to break through, especially in terms of management mindset, is the key to successful transformation. Crystal International emphasizes "Total Innovation", and this has become one of the core values of the Group. Innovation is an ongoing process. On the one hand, the Group has been adopting advanced automation facilities while on the other, we have been active in research and development ("R&D") of new technology, which is indispensable in raising the Group's productivity. In respect of product innovation, each operating division has its own dedicated product development centre that conducts continuous R&D to develop and deliver new products and new technology. On the production process front, each operating division also features an industrial engineering department to help raise productivity. Our larger-scale factories have established technical development divisions dedicated to R&D of pre-washing, machinery, machine parts, and software technology, in particular applying radio-frequency identification ("RFID"), big data analysis, and upgrading Industrial 4.0 applications.
Our achievements through these years of innovation have resulted in work efficiency enhancement while also improving our workers' quality of life. The enhanced efficiency among our workers has benefitted the Group, thus, in turn, achieving an "all-win" situation. The ever-transforming societies in which we live, mean that market demand is changing rapidly. In the era of artificial intelligence, big data and robotics, Crystal International has dedicated itself to becoming a pioneer in the industry, taking the lead in technology application. We endeavor to strive for breakthroughs in this new age of disruptive innovations.
Corporate Social Responsibility to Build an "Enterprise with a Conscience"
As our business scale expands, so will our share in the global market and our influence within the industry. The greater the influence we possess, the greater is the corporate social responsibility that we have towards society. In 2007, we started to promote our idea of sustainable development by defining the 3Ps - "People", "Planet" and "Profit". Taking these as three cornerstones, we have established a framework specific to Crystal's circumstances by adding "Innovation" and "Product Integrity" to cover the following five key areas:
- Environment;
- Innovation;
- Product Integrity;
- Employee Care; and
- Community Engagement.
After establishing the framework, our first step was to formulate the direction leading us to the desirable outcome. The Group then launched five-year plans to set realistic, environmentally friendly targets helping us to face the challenges ahead with quantitative measurements and in a sustainable manner.
Crystal International is committed to quality. We produce products with a conscience and also build our enterprise with a conscience. With "the Greater Good" guiding us, we safeguard our customers' brands by satisfying consumers. In pursuit of the sustainable development of the Group, we desire to give back to society what we take from it, aiming to be an outstanding corporate citizen. Our dedication to sustainability has been well recognized, winning us the ranking of 17th out of the top 50 global corporations in Fortune Magazine's "Change the World" list in 2016, where we were the only Hong Kong corporation on the list among all other multinational corporations and reputable international brands.
As a consequence of the recent IPO, we believe the market will have higher expectations of Crystal International regarding corporate social responsibility. In addition to maintaining our competitive advantage, we must also focus on risk management, and facilitating our accountability to investors, customers, employees and society.
Professional Management with Emphasis on Corporate Governance
As a listed company, the importance of good corporate governance speaks for itself. Crystal International had taken the initiative to set up a well-designed and effective mechanism to improve steadily its standards of corporate governance in its early years. We invited experienced and capable executives to join the Board to strengthen our corporate governance. For many years, our Board has been structured to include independent non-executive directors, enhancing both professional management and the level of corporate governance achieved. I would like to take this opportunity to thank our Board, especially our independent non-executive directors, for their support and contribution throughout the years.
Business Prospects
In 2018, the momentum of our business continues to be positive. With the continuing trend of consolidation in the apparel manufacturing industry, Crystal International will continue to take advantage of our competitive position and listed company status to maintain our leading position in the market, and to meet the expectations of our shareholders.
Crystal International has grown from a team of around seventy members, to an enterprise with over seventy thousand employees today. We believe our successful listing should contribute positively to our long-term sustainable development and, at the same time, enhance our competitiveness that will strengthen our market leadership in the industry. None of all this could have been achieved without the collective effort and dedication of our management team and all our employees. Looking ahead, we will continue to sharpen our existing competitive edge and deploy our spirit of striving "For the Greater Good" to work towards our driving vision of becoming the world's no. 1 apparel manufacturer.
Lo Lok Fung Kenneth
Chairman and Executive Director